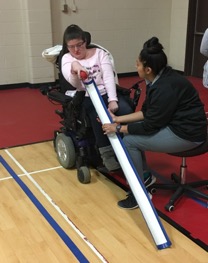 This blog was updated on March 7, 2023.
Let's face it: You can be five or 95…at any age, playing is fun. But, for some people, it's much more. 
Did you know that Mecklenburg County's Park & Recreation department has Therapeutic and Inclusive Recreation Services? I didn't – and I had to ask what it means. Here's what I found out: recreational therapists use activities to help those with illnesses or disabling conditions participate fully and independently in chosen life pursuits and goals.
Some of the ways that recreational therapists achieve success are with adaptive sports, a summer camp, community outings, life skills development, dance and exercise, creative arts and music, and Adapted Sports. But wait! There's more! Check out this post about Mecklenburg County's tiny house! It's tiny in size, but huge in fun.
Programs and activities like these make the typical day for a recreational therapist anything but typical. They work in a variety of settings from hospitals to assisted-living facilities to schools, just to name a few.
The Fun People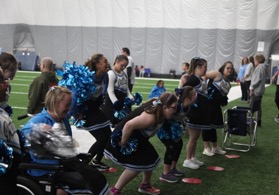 And like many of the services we provide to the residents of Mecklenburg County, this one is all about the people—both the participants AND staff. After all, who wants to attend programs being run by someone who can't find the fun in what they do? NOT ME!
But hearing what our Therapeutic Recreation staff have to say about their job, it's clear that they bring their all:
"I've been blessed to have a 30-year career in a profession that uses various recreational activities to improve one's mind, body, and spirit in order for him or her to enjoy his or her best life!" – Vernice Gallon Clyburn, LRT/CTRS
 "Experiencing how recreation improves the lives of people of all ages and abilities is a rewarding feeling that cannot be replaced!" – Candice Moore, M.S., LRT/CTRS
"I have been a Licensed Recreational Therapist/Certified Therapeutic Recreation Specialist since 2006. I am passionate about helping people of all abilities to live their best life – this field allows me to do that in so many ways!" – Kristina Cudney, M.S., LRT/CTRS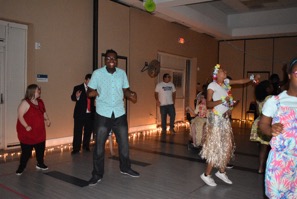 The importance of using recreation to help people with developmental or physical disabilities can't be stressed enough. As Dr. Seuss says: "It is fun to have fun, but you have to know how."
For more information about Therapeutic and Inclusive Recreation Services, email TRInfo@MeckNC.gov or call 980-314-1192.