I'm a discarded water bottle. Someone tossed me onto the ground at the Mecklenburg County Park and Recreation Revolution Park near Irwin Creek. I didn't start in the creek, but when it started to rain, runoff took me there.  
The folks who work in Charlotte-Mecklenburg Storm Water Services know all about runoff, but I don't. I didn't know where I would end up. I'm recyclable, but I need to make it to the Waste Management site for that to happen. And since I wasn't tossed into a recycling bin, the chances of that happening seemed impossible. As I floated in Irwin Creek, contemplating my existence and my demise, I came upon other plastics and trash. It's as if we were being gathered together. The flow of the water brought us into a basket contraption. 
And then I realized, I was "git." The Litter Gitter got me.
A New Litter Gitter in Town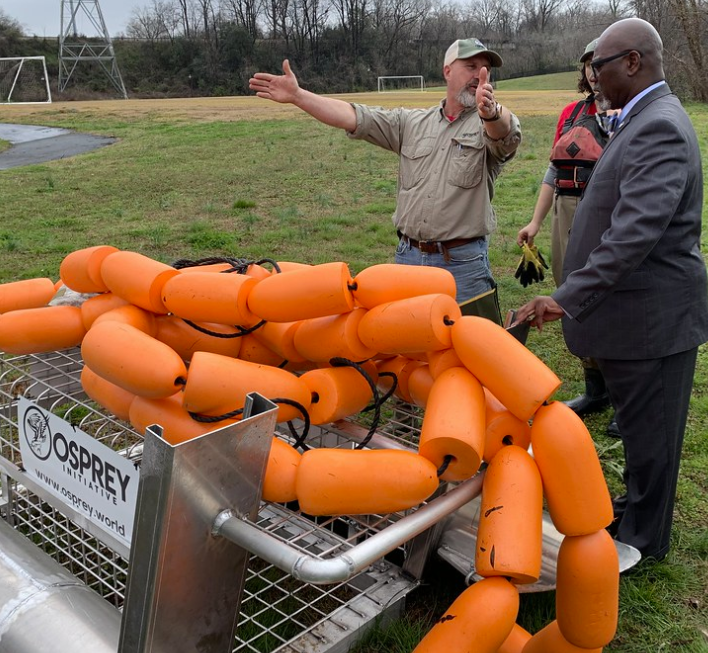 Osprey Initiative just installed three Litter Gitters in Mecklenburg County. But they didn't just "git" me — they have green workers who will sort everything that was collected in the Litter Gitter every week, or after heavy rains. The green workers will take me, soda bottles, and other plastics to the Mecklenburg County Solid Waste Services division to be recycled. They'll also get rid of the trash.
Litter Gitters are new to Charlotte. They started in Mobile, Ala. The inventor, Don Bates, came to Charlotte to explain how they work. He says the Litter Gitter is designed to catch single-use plastics and Styrofoam. "It's pretty much what we're chasing," said Bates, who invented the Litter Gitter and its catchy name.
How many water bottles like me become litter? They'll study the Litter Gitters and what they git.
The Gittin' is Good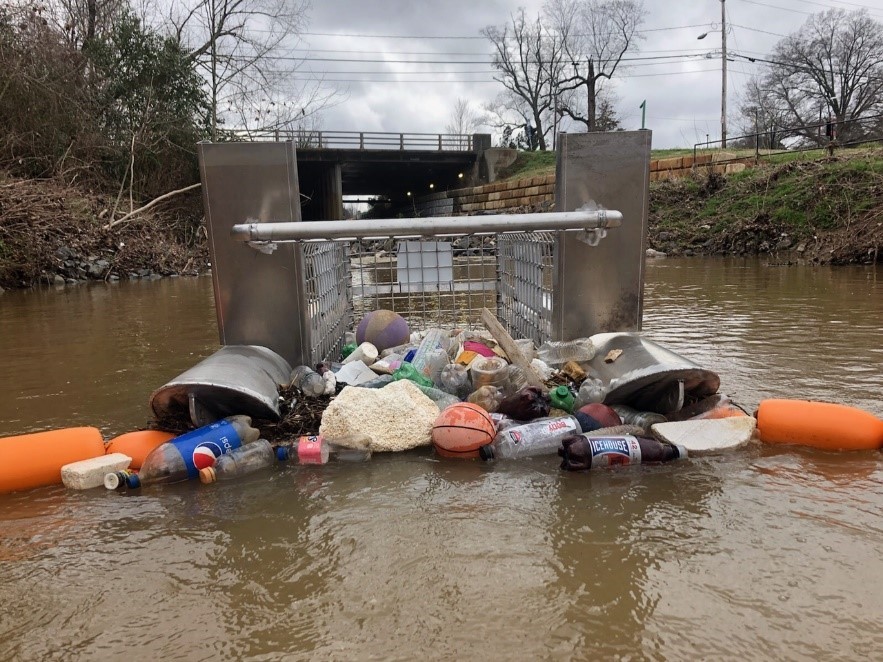 Bates took this photo of the Litter Gitter on Irwin Creek. I hope he caught my good side. Do you see me? I'm on the right just about to go into the basket. I'm so thankful to be git. It took a lot of partners to come together to get the Litter Gitters to Charlotte. Thank you to the City of Charlotte, Mecklenburg County, Envision Charlotte, Coca-Cola Consolidated, and Osprey Initiative.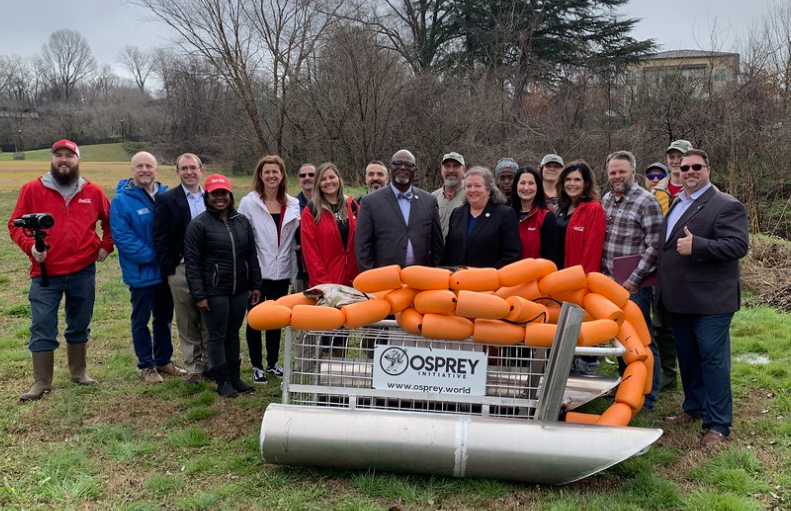 You can see their good sides in this photo taken right before another Litter Gitter was put into Little Sugar Creek at Alexander Street Park. The work is not only on them, though. You can help keep our waterways clean, too!