Updated 3/23/22
Would you be surprised to learn that more than 3 tons of trash can be found in our local waterways? We might be if Charlotte-Mecklenburg Storm Water Services volunteers hadn't picked up that much trash during the 2017 Big Spring Clean. The number was even higher in 2019… 11.24 tons of trash! It's sad to think about that much pollution in our waterways, degrading our recreation areas and harming our wildlife. Not to mention, it's just not a great look for our community.
So, how does so much trash end up in our waterways?
When it rains, trash from the streets washes into the storm drainage system, and that system leads directly to our ponds, streams and lakes. But that's not all – sometimes people purposefully dump trash directly into our waterways! And we're not just talking about paper and aluminum cans.
Here are some items that Charlotte-Mecklenburg Storm Water Services volunteers have found that really made them scratch their heads:
An old skateboard
An unbroken fluorescent light bulb
An entire creek full of tires
A wire spool
Mattresses
A washing machine
A walking boot
A Hannah Montana guitar
Baby doll heads
A shopping cart
I think it goes without saying – if you're in possession of an item that you no longer want, don't just dump it somewhere it doesn't belong! There are several options at your disposal (see what I did there?)
What to do with all that trash
Sell it!
If your item is in good enough condition for someone else to get some use out of it, consider selling it. It's a great way to make a little bit of cash and there are lots of ways to do it. If you want to get together with some neighbors and host a yard sale and you're in the City of Charlotte, just remember to get the Garage and Attic Sale Privilege License. If you're seeking potential buyers in an online forum or through an app, remember that there are safe exchange zones coordinated by Charlotte-Mecklenburg Police Department to help provide some extra safety measures when you're transacting.
Donate it!
You know the saying: One man's trash is another man's treasure! There are a variety of organizations in our community that will accept unwanted toys, clothes, electronics, household goods – even cars. This is a great way to get rid of your unwanted items without contributing to a local landfill. Most organizations allow you to drop them at a designated location, but some even offer the option to schedule a pick-up at your convenience like Goodwill Industries of the Southern Piedmont. When they sell your items, that money goes on to fund employment training and job placement services for Carolina residents. If you have a favorite local charitable organization, contact them to see if they accept donated goods. Just because something has outlived its purpose with you doesn't mean it can't be given a second life with someone else.
Schedule a pickup from Solid Waste Services!
Some of the items we want to get rid of really are just trash. If they're unable to be recycled, place them in your curbside bin. Household furnishings, appliances, mattresses, box springs, lawn equipment or similar items that are too big to fit in your curbside bin are considered bulky waste and must be scheduled for collection. Please note that the resources linked in this section are specific to residents within Charlotte city limits. If you live outside of Charlotte contact your local service provider for details on recycling guidelines and bulky waste pickup.
Help Storm Water Services keep our waterways clean!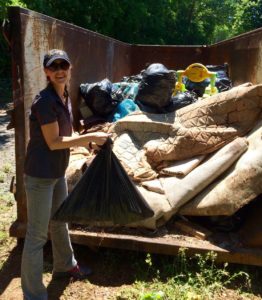 So, can we all agree that we shouldn't be muddying up the water with our unwanted stuff? Don't be a litterbug or an illegal dumper! If you can safely say you don't fall into either of those categories, you may be wondering what else you can do to improve our local waterways. The answer is easy: volunteer! Storm Water Services coordinates nearly 3,000 volunteers every year to help improve and protect our local streams and lakes, but with nearly 3,000 miles of streams throughout Mecklenburg County they need all the help they can get. So, round up your family, neighbors or co-workers and Adopt-A-Stream, which requires a twice-a-year commitment for two years. Or, participate in the Big Spring Clean, a yearly event where we band together as a community and clean up as many sites as possible!
Because you know that other saying: If you're not a part of the solution….