healthy adjective:
/ ˈhel-thē also ˈhelt-\
healthier; healthiest
1 – a: enjoying good health
: free from disease
b: not displaying clinical signs of disease or infection
2 – beneficial to one's physical, mental, or emotional state : conducive to or associated with good health or reduced risk of disease
3 – showing physical, mental, or emotional well-being : evincing good health
4 – a: prosperous, flourishing
b: not small or feeble
At least, that's how Merriam-Webster defines it.
With the growing popularity of workout apps, on-demand at-home exercise videos, fitness blogs, you name it, the term "healthy" has been given a lot of different meanings. But here's the problem – overtime we create images for ourselves of what we THINK healthy looks like, but this can actually take us away from what our bodies really need.
While we can't tell you what healthy means for YOUR individual body and YOUR lifestyle, here's what we can tell you: these are three things that healthy is NOT.
1 – Healthy is NOT skinny.
A lot of us have a goal to be "skinny," but being skinny on the outside doesn't make you healthy on the inside. Our bodies all have individual needs, which can be best explained to you by your doctor.
It's also important to note that while health is mostly associated with the internal (based upon results of good nutrition and moderate exercise), balancing your mental health is equally as important.
Let's face it – we all have a lot going on and engage in various activities that can really be demanding. As a result, it's really important that we also take time to manage our stress levels. A few ways to do so include developing a healthy work/life balance, engaging in natural therapeutic activities (like walking or riding a bike), listening to soft music, exercising, engaging in art, or using aromatherapy.
2 – Healthy is NOT giving up your favorite foods.
Repeat after us: everything in moderation. Repeat after us again: make good decisions.
It's easy to fall into the trap of thinking you have to give up all of the foods you love to live a healthy lifestyle. Not true! Instead, your goal should be to focus on making good decisions when it comes to what you eat. Here are a few ways you can start:
Aim for 4 to 5 small meals a day – breakfast, lunch, dinner, and 2 light snacks. Don't skip any!
Look for snacks with healthy fats such as avocados, seeds, nuts, yogurt, and cheese.
Remember that whole foods are key – think whole grains, fruits, and vegetables. For fruits and vegetables, look for those that are fresh and in-season.
If you eat meat, shop for white, lean cut meats, such as fish, poultry (chicken or turkey), and pork. Avoid processed meats.
Reduce your consumption of sweetened beverages.
3 – Healthy is NOT being reactive to your body's needs.
One of the greatest gifts you can give your body is the willingness to be proactive, not just reactive, when it comes to your health. In addition to being mindful about what you're eating and how much you're exercising, our Village HeartBEAT team stands by the motto of "know your numbers."
But what does that mean? We all have numbers around our weight, BMI, blood pressure (diastolic and systolic), cholesterol, and A1c. When it comes to these, it's important to know where your numbers reside on the normal and abnormal scale and understand how you can keep them in the normal range through methods such as physical activity and health education. It's also important to maintain your yearly visits with your primary care physicians (and visit them when you have surprise aches and pains too, of course)!
Village HeartBEAT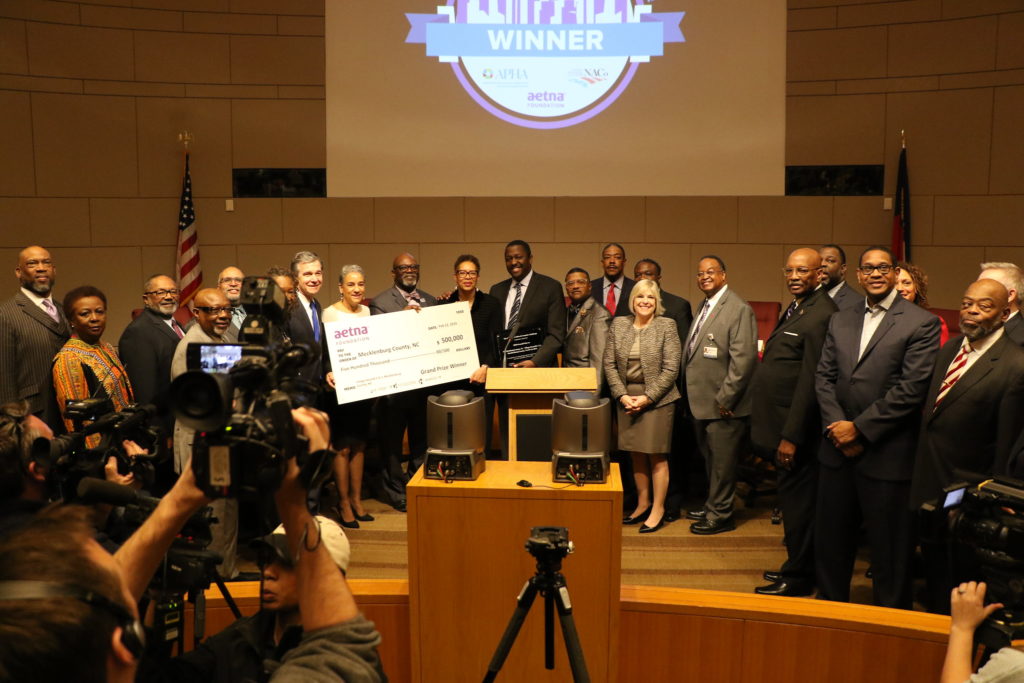 Now let's talk a little bit about resources. Are you familiar with Village HeartBEAT? It's a Mecklenburg County Public Health initiative aimed to reduce heart disease and obesity in the African American and Hispanic communities. And if we may take a minute to brag, the program recently won the $500,000 grand prize in the Healthiest Cities and Counties Challenge! A few of their latest accomplishments include:
Reducing the risk of cardiovascular disease by improving the level of fitness and health education for nearly 700 Mecklenburg County residents.
Reducing smoking in the community from 17.4% to 13.9%.
Reducing obesity rates in the community from 70% to 64.7%.
They do this by collaborating with local faith-based organizations to create policy changes and promote healthy behaviors within their congregations and neighboring communities! A notable highlight of the program is the Thereasea Clark Elder Community Health Leadership Academy, which provides access to community resources and educational and training opportunities in the areas of chronic disease prevention, nutrition and physical activity. Thereasea Clark Elder is a retired public health nursing pioneer and beloved community organizer well known across the west corridor of Charlotte, NC. (Fun fact: in 2017 she donated artifacts surrounding neighborhood history, educational opportunities for the African-American community, and politics to the J. Murrey Atkins Library at UNC Charlotte. You can view them in the General Collections area on the third floor.)
To learn more about this initiative, visit Village HeartBEAT online. You can also connect with them on Facebook and Twitter to keep up with their programs and events.