by Hannah Stutts, Grant Coordinator, Mecklenburg County Public Health
I don't know about you, but when I'm driving around Charlotte (or stuck in traffic) I soak up everything about our beautiful city. New construction is everywhere, colorful lights paint the skies of uptown, trees and flowers decorate the sidewalks and buses with vibrant ads fill the streets – that's right, I think the buses are beautiful, too. Especially the 30 buses that are rolling around with this PrEP ad on them.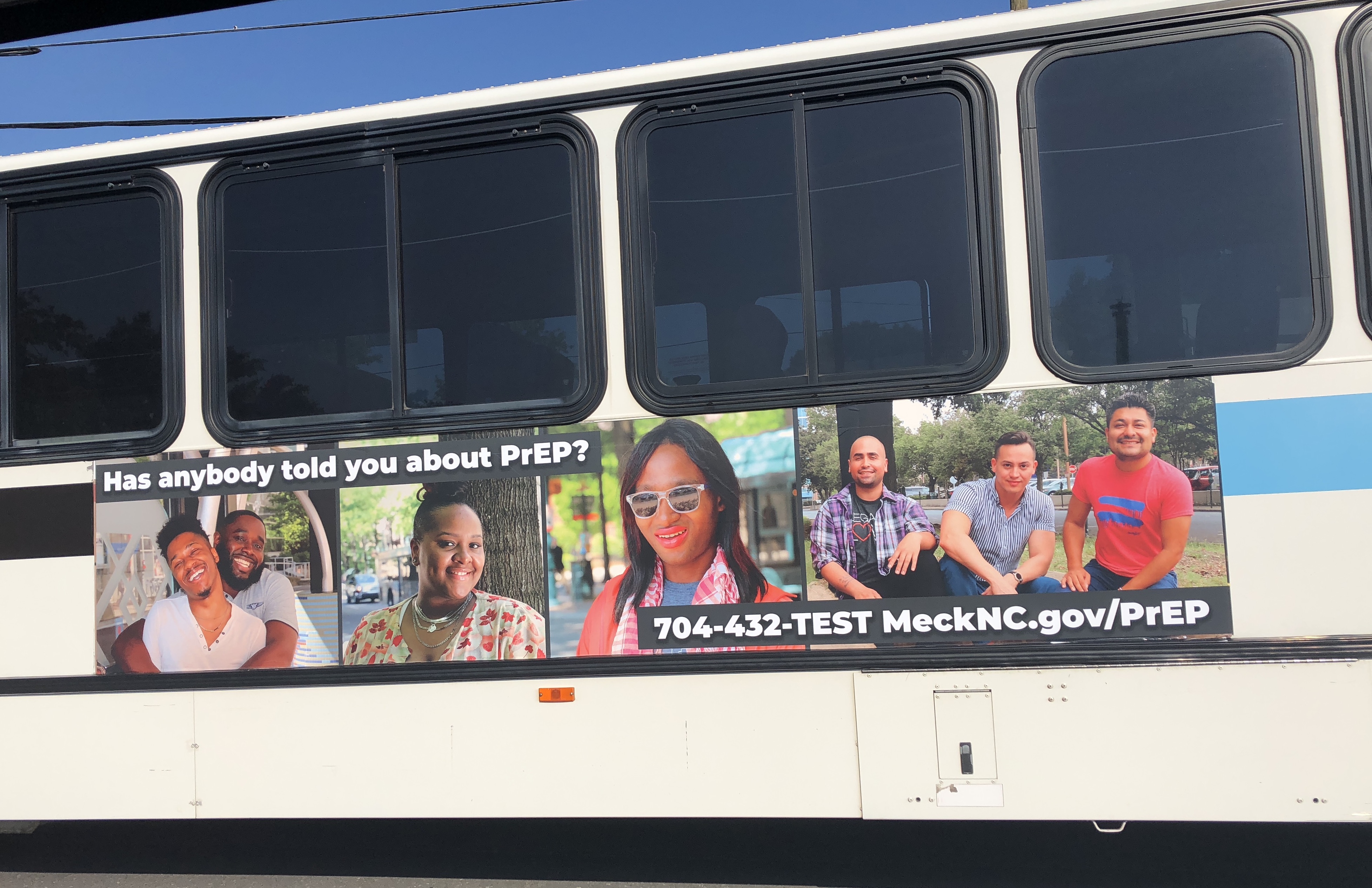 The ad is part of a campaign that's all about educating people about PrEP, or pre-exposure prophylaxis, a little blue pill that is revolutionizing HIV prevention. I had the honor of working with community partners, providers and advocates to help create something that educates people on how to stay sexy AND healthy. The best part? All of those faces in the ad are members of our community, from right here in Mecklenburg County.
So, has anybody told you about PrEP? If not, here are the answers to your biggest questions:
What is PrEP? PrEP or pre-exposure prophylaxis is a daily medicine that can help reduce HIV transmission by 99% via sex and by injection drug use by more than 70%. You can increase the effectiveness of PrEP by using condoms and other prevention methods.
Is PrEP right for me? Men having sex with men take PrEP at the highest rates but women can also take PrEP to prevent them from being diagnosed with HIV. Visit your health care provider or the health department to help determine if PrEP is right for you. It could be an option if you are HIV negative AND any of the following:
– have a positive partner
– have multiple partners
– have a partner with an unknown status
– recently had an STD
– have unprotected sex (don't use condoms or other prevention methods)
– use injection drugs
How much does PrEP cost? If you have insurance, talk to your doctor to access the medication and discuss cost. If you don't have insurance, I can help. That's where the campaign I mentioned above (and am so proud of) can help. The County has partnered with five community healthcare providers to offer the medication for FREE. That's right, this life-changing medication is available for free to anyone who wants to stay sexy and healthy. You can learn more about how to get it here.
Now that you know the basics of PrEP, you can find more information about it and about STD testing at www.mecknc.gov/prep or by calling 704-432-TEST (8378). And the next time you're in your car or walking around town look at the buses and see if you can spot our ad – in case I didn't mention it earlier, I'm really proud of it!