You probably know that there are a few law enforcement agencies in the Charlotte-Mecklenburg area – there's the Charlotte-Mecklenburg Police Department, local town police departments, and of course, the Mecklenburg County Sheriff's Office (that's our partner).
When you think of these agencies and those who work to keep our community safe, chances are you think of the people who respond to your calls for service and patrol your neighborhoods. But, it's not just humans who wear a badge – dogs do too!
Mecklenburg County Sheriff's Office K-9 Unit
Our Sheriff's Office has six K-9s that work in the Field Operations Division. Of those six, four are multi-purpose dogs and two are explosive detection dogs. Our multi-purpose dogs are trained in tracking, bite and apprehension, article, area and building search, and narcotics detection of real drugs and illegal substances. Our explosive detection dogs are trained to detect unique scents of different explosive materials and can detect different combinations of explosive materials in both trace and bulk samples.
As you can probably guess, a lot goes into getting our dogs ready for the force. Let's dive into some fun facts about the unit that you may not have known before!
Training for Mecklenburg County Canines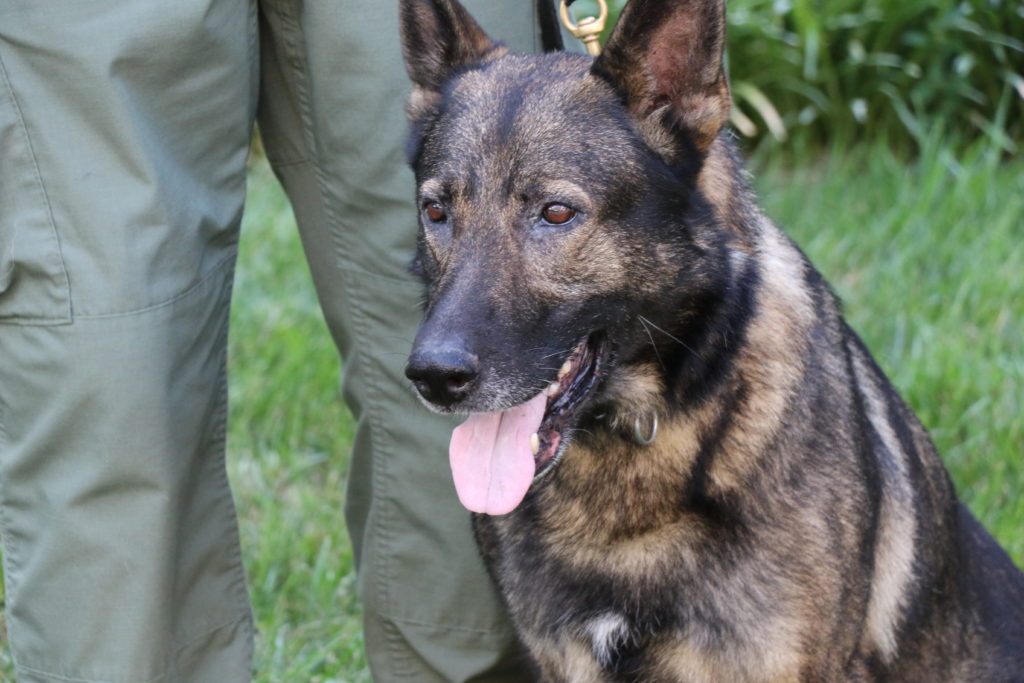 You'll usually see German Shepherds and Belgian Malinois as our patrol canines, and right now we have two Labrador Retrievers serving as our explosive canines. But regardless of breed, all of our dogs go through the same rigorous training. Here's how it works:
Step 1: Our dogs begin their training between one and 1.5 years of age. This training lasts for six to eight weeks and is handled by a vendor that specializes in police and military canines.
Step 2: Once the dogs have completed their initial training, they are matched with a handler.
Step 3: The handler and their canine go through another six-week course where they work together to form an effective team.
At this point the canines are ready to begin serving the community, but their training doesn't stop there. Our K-9 Deputies must set aside time daily to work with their canines, plus they spend 16 hours each month with a Master Trainer to strengthen their skills. Each year our canines are certified by United Police Work Dog Association, at which point they must demonstrate their ability to find contraband, explosives, and effectively track subjects.
K-9 Unit Responsibilities
Like we said earlier, our dogs fall into two different categories, which determines the type of work they do: they are either multi-purpose dogs or they are explosive detection dogs. Some examples of their work include:
Responding to traffic stops that may involve illegal drugs
Assisting with high-risk warrants
Tracking suspects
Performing explosive sweeps of public venues at events such as Panthers games (if you see them, please remember that they are working and they should not be treated as pets)
However, this is not all they do. Most people don't know that our K-9 Deputies are also tasked with ensuring that the sex offender population is in compliance with the law and are responsible for verifying addresses, investigating complaints against registered offenders, and charging violators.
How to Become a Mecklenburg County K-9 Deputy
The Sheriff's Office is always looking for people who want to make a difference in our community. Does that sound like you?
Before you can obtain a K-9 position, you have to serve as a Deputy Sheriff for a minimum of 2 years and be in your current assignment for 18 months. The interview process includes attending a K-9 training session and participating in a drill where you take a bite from a dog while wearing a protective sleeve. Once selected, you'll attend a six-week long immersion course where you work with your canine and learn handling techniques.
Another requirement: you must also own or lease a home and have a yard that can safely accommodate a canine. That's because our handlers take their canines home with them! If you become a K-9 Deputy, the Sheriff's Office will provide a kennel for each canine at your home.
Meet Your Mecklenburg County Sheriff's Office K-9s
We couldn't leave without introducing you to some of the K-9 teams we have in our Sheriff's Office! Here are a few of the canines and handlers who are working hard to keep you safe each and every day.