Edited on 3/21/23.
Written with assistance from Catherine Luckenbaugh of Park and Recreation
If there's one thing that can brighten up a home pretty quickly, it's adding plants to your garden. But, part of a having a successful garden includes knowing what is and is not suitable for our environment.
Let's take a look at some of the native plants our Park and Recreation staff recommends using (if you stick with us until the end, we'll also touch on some invasive species).
Native Plants in Mecklenburg County
Redbud (Cercis canadensis)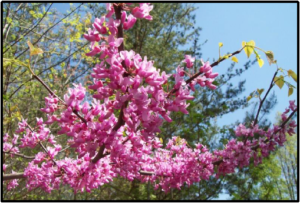 This small native tree can be found all throughout the County. Some common spots are along roadsides and in most forested areas, including our parks and nature preserves. An easy way to recognize a redbud tree is by their flowers – they have small lavender or pink flowers that are held close to the branches, and their leaves are heart-shaped (they bloom in early spring). Redbud trees are suitable in a variety of conditions, but are most often found in the understory with partial shade and well-drained soils. As for maintenance, light watering will help the roots get established. Once that happens, they require very little work!
Wax Myrtle (Morella cerifera)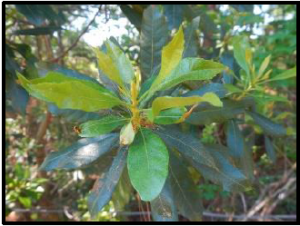 Though this evergreen shrub is native to eastern North Carolina, it is widely used in landscaping throughout Mecklenburg County. A great place to see one in person is the entrance road to Reedy Creek Park and Nature Preserve! Wax Myrtles can grow up to 12 feet tall without any pruning, but can be kept lower and denser and can even be pruned into a small tree if desired. This shrub produces small, wax-coated berry-like fruits that birds love.
Sweet-Shrub, Carolina Allspice (Calycanthus floridus)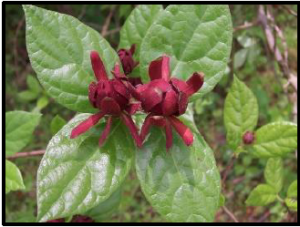 This deciduous shrub is found along moist, rich streamsides throughout the County. Best used in a woodland garden or along a border, these shrubs prefer partial shade and moist soil. They can easily be spotted by their dark-green, paired leaves and deep red flowers in spring. If you'd like to see them up close, several of these shrubs can be found in the Van Landingham Glen at the UNC Charlotte Botanical Garden.
Carolina Jasmine (Gelsemium sempervirens)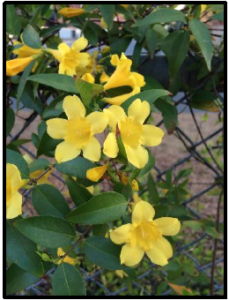 A beautiful vine that twines, Carolina Jasmine can be found along roadsides and in open forest habitats throughout the County. Although it is evergreen (meaning it remains attractive year-round), bright yellow flowers bloom in early spring. Its preferred environment is somewhere sunny with well-drained soil. From basic arbors to living fences and screen walls, Carolina Jasmine can be used in many different ways! An example of a screen wall can be seen along the Little Sugar Creek Greenway between Elizabeth Avenue and 7th Street. A living fence of Carolina Jasmine can be seen around the perimeter of the grocery store at Central Avenue and The Plaza in the Plaza Midwood neighborhood of Charlotte.
Invasive Plants in Mecklenburg County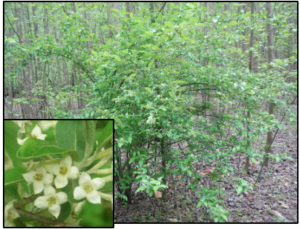 The most common invasive species in Mecklenburg County is Autumn Olive (Elaeagnus umbellata). Autumn Olive forms dense shrub growth in our forests, crowding out native shrubs and wildflowers. Some other invasive species we encounter include Chinese Holly, Chinese Privet, Chinese Wisteria, Glossy Privet, Japanese Stilt Grass, Mimosa, Porcelainberry Vine, and Golden Bamboo.
Where do invasive species come from?
Our worst invasive plant species have been here for many years, with most of them being introduced through horticulture. Many of them come from areas of China that have a similar climate and habitat to ours. A problem arises here because these plants lack natural predators and can grow unchecked, which tips the equilibrium of our native ecosystem. Some other invasive plants, such as Kudzu, were intentionally introduced for erosion control.
Another thing to note: just because you maintain your yard doesn't mean that the plants in your garden aren't spreading into nearby natural areas. Birds and other wildlife can carry the fruits of invasive species to nearby areas. In fact, many invasive species were formerly recommended as plantings for wildlife food, but now we know that our native birds and wildlife receive more complete nutrition from native plants.
What are we doing to control invasive species, and how can you help?
Several departments in the County work together to help control invasive species:
Park and Recreation uses contractors to help treat invasives across the entire park system.
Natural resources staff place their efforts on the nature preserves
Horticulture staff focus on the greenways and parks
LUESA works on stream enhancement and restoration corridors, as well as floodplain hazard areas
Invasive species in these project areas are treated for at least five years, and sites are visited regularly to monitor areas that may need some additional attention.
YOU can help us by choosing native plants when building your gardens. If we all work together to use more natives in landscapes, our efforts to protect rare species, maintain forest health, and protect our investment in stream restoration and enhancement projects will go much, much further.
Have more questions about native and invasive plants? Feel free to reach out to our Nature Resources staff!