We've all heard the saying "an apple a day keeps the doctor away." There's a reason for that! Good nutrition is vital to good health and disease prevention. And it's essential to "growing up big and strong" as my grandmother used to say. Eating nutritious foods (along with a little exercise, of course) can help reduce the risk of chronic diseases like heart disease, cancer, and diabetes. Those are some of the leading causes of death in our County and the country.
Seems easy enough, right? If I eat healthy food, I will be healthier. But it's not that simple. Not everyone has access to healthy food. I know! It's hard to believe that in 2020, there are people in our community who don't have access to a grocery store to get the foods they need to live healthy lives.
An Idea is Planted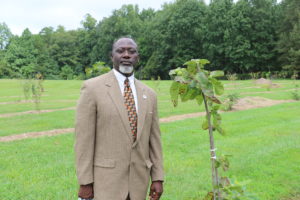 Reggie Singleton, one of Public Health's policy coordinators, was inspired by the fruit tree orchards he grew up with in the Sea Islands of Charleston, SC. He suggested partnering with other community organizations to install orchards and a system for distributing the food to the communities with food insecurity. And the Edible Landscape Project was born!
Signs of Success
With support and partnership from community organizations, Public Health and its partners have established multiple orchards across priority communities in Mecklenburg County. The orchards produce plums, figs, pears, peaches and persimmons. They have even expanded to plant seasonal herbs and vegetables like squash, string beans, tomatoes, and cucumbers. Neighbors harvest, process and distribute food to nearby community members directly or through the church food pantry. To date, their efforts have supplied fresh, nutritious food to over 25,000 people in the County. Here's a look inside how the orchards work.
Earlier this year, the Edible Landscapes Project received a Best In Category award from the National Association of Counties. This project combined with farmers markets and healthy corner stores is helping communities get better access to healthy food.
A big thanks to our community partners for helping establish and nurture our Edible Landscapes: N.C. Cooperative Extension Service, TreesCharlotte, Village HeartBeat, Mecklenburg Extension Master Gardener, and The Males Place Inc.