Between all of our parks, greenways, nature preserves, and recreation centers alone, there are an endless amount of opportunities to get out there and recreate (and then there's our picnic shelters, aquatic centers…the list goes on and on). But we get it – finding these opportunities can be tough when there's so much to look for.
Don't worry, though. We've got a solution that makes recreating in Mecklenburg County easy to do year-round. You're literally just a few clicks away from recreating right now!
If you're not familiar with it already, let us introduce you to our online portal known as Eparks 2.0. Using Eparks 2.0, you can see all of the recreational offerings we have at various locations throughout the County, PLUS you can register for them right then and there. And did we mention that you can also reserve a picnic shelter or campsite, as well as view a calendar of other facilities that are available to rent? Yes, it's true.
Getting started in the portal is simple.
Step 1: 
Visit www.parkandrec.com and click on the Eparks 2.0 logo.

Step 2:
Click on "create an account" in the top right corner and follow the prompts that follow. (This should only take a few minutes to complete, and you'll receive a verification email once your account has been activated.)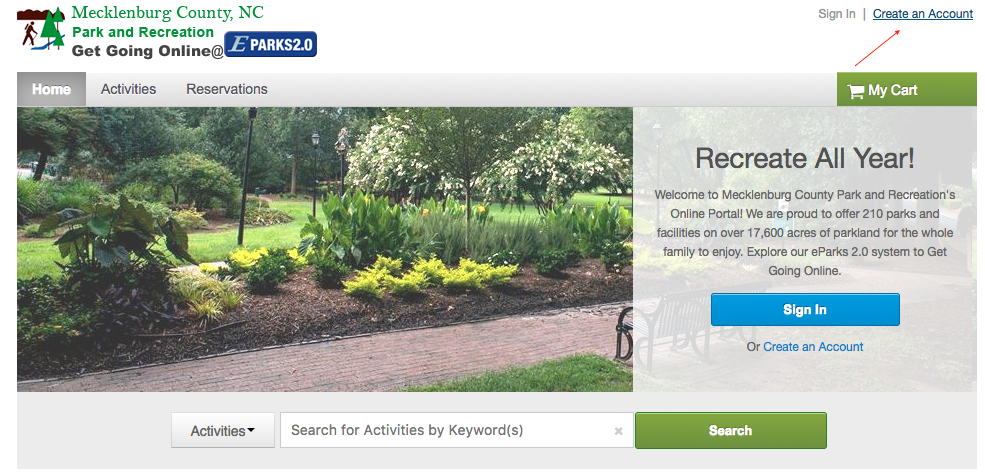 Step 3:
After your account is set up, click on "recreation activities" or "facility rentals" to see what we have available.

Step 4:
Browse our current offerings, and register for a program or reserve a facility!
Pretty easy already, right? Well, it gets even easier.
As you search for activities, you can filter by category, age, and date, OR you can enter a keyword that's specific to a program you're looking for.
So…what are you waiting for? Whether you're looking to join a sports league, are interested in reserving a facility for your next family gathering, or are just hoping to find some fun recreational activities to participate in, we bet you can find it using Eparks 2.0. And while it should be a seamless process to sign up for something, if you have any questions at all, don't hesitate to contact our Park and Rec office at 980-314-1000. You can also send us a question on Facebook or Twitter.
We look forward to recreating with you soon!