We've enjoyed giving back in many ways this holiday season, from working with our partners to make sure our clients have an extra special holiday, volunteering with local nonprofits, and even collecting items to donate. Here are a few final stories behind our gifts.
LUESA Warms Up the Holidays
For LUESA employees, partnership is the name of the game when it comes to giving back during the holiday season. Air Quality staff continued an annual tradition with Community Support Services to provide food and gifts to families in need. For the last 5 years, the departments selected a family to sponsor and donated gifts and non-perishable items. This year, the group collected items for a family of three. "You never know what else someone may be dealing with and how that simple act of kindness may help change their life," said Danielle Jones, senior air quality specialist.
LUESA's Employee Council also joined forces with Steve's Coats for Kids to help keep area children warm this winter.  Staff collected new and gently used coats to add to the annual coat drive's donations.
The coat drive ends January 9th.
Assessor's Office and the Ronald McDonald House of Charlotte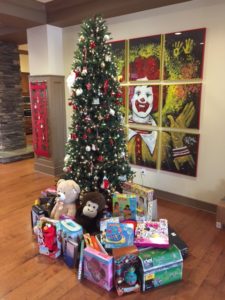 Staff in the County Assessor's Office (CAO) have some idea of what it must be like to work in Santa's workshop. For the past two years they have collected toys and wrapping paper for the Toyland Holiday Shop at the Ronald McDonald House of Charlotte.
For some of them, like Tiffany Pettit, Quality Control Coordinator for the Real Property Division, it's personal. "There is a little boy in Texas. He has a heart condition. Every time he had a surgery, they stayed at a Ronald McDonald House. So, I do it for him."
Assessor's Office staff also gives back throughout the year through Loaves and Fishes and the Charlotte VA Health Care Center.
Sugaw Creek Recreation Center Christmas Project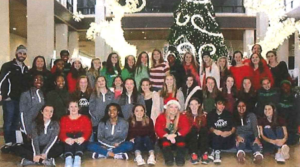 In 2004, Cynthia Smith Perkins, a recreation specialist with Park and Recreation, started the Nadine Smith Memorial Adopt A Family project at the Sugaw Creek Recreation Center. It's actually much more than just adopting a family during the holidays.
Every year in June, sponsors are recruited to support the program. Families in the Hidden Valley neighborhood and surrounding areas are interviewed and chosen to participate. They attend Empowerment Workshops in the fall and finally a holiday celebration in December which includes performances, crafts, awards, dinner and of course a visit from Santa himself.
Over the past 13 years, the program has helped around 200 families and children. The program has done much more than just provide gifts, it has also encouraged community unity, taught others about community service and empowered parents through educational workshops.
Public Information and Operation Sandwich
Every year, the County's Public Information staff have a holiday gathering. This year, they wanted to add something to the celebration and give back to the community they work in every day. So, they brought supplies and worked together to make over 250 sandwiches for Urban Ministry Center's Operation Sandwich.