Anywhere it rains, it can flood. However, there is one place where that's actually a good thing: greenways.
Yep, you heard me correctly. Not only do greenways connect people and places as well as provide transportation and fitness opportunities, they also help reduce the risk of flooding for neighboring properties.
How do greenways stop floods?
Greenways are often built in floodplains or areas along creeks and rivers that are likely to experience repeated flooding. These trails serve as buffers or "no build" zones. These buffers store excess stormwater runoff and protect surrounding natural areas that are able to absorb flood waters and filter stormwater pollutants. The natural vegetation in these buffer areas also helps reduce the chance of erosion and moderate water temperatures. And they provide natural habitats for wildlife like this blue heron spotted on McAlpine Creek Greenway.
But what about homes and businesses built in floodplains? If it's built there, they will come… and offer to buy it out.
Why Floodplain Buyouts?
Charlotte and Mecklenburg County have grown A LOT over the decades. Many residential and commercial properties have been constructed in areas prone to flooding.
Buying and removing buildings in the floodplain is one of the most cost-effective ways to reduce long-term flood damage. It also creates many other community benefits. This is where Charlotte-Mecklenburg Storm Water Services comes in. Since 1999, the joint utility has purchased over 400 flood-prone houses, and businesses in floodplains through its Floodplain Buyout Program. That buyout means avoiding losses of nearly $25 million. Many of these properties have been transformed into community gardens, reforested natural areas, informal recreational areas and…you guessed it, greenways. A great example is Little Sugar Creek Greenway near Westfield Road.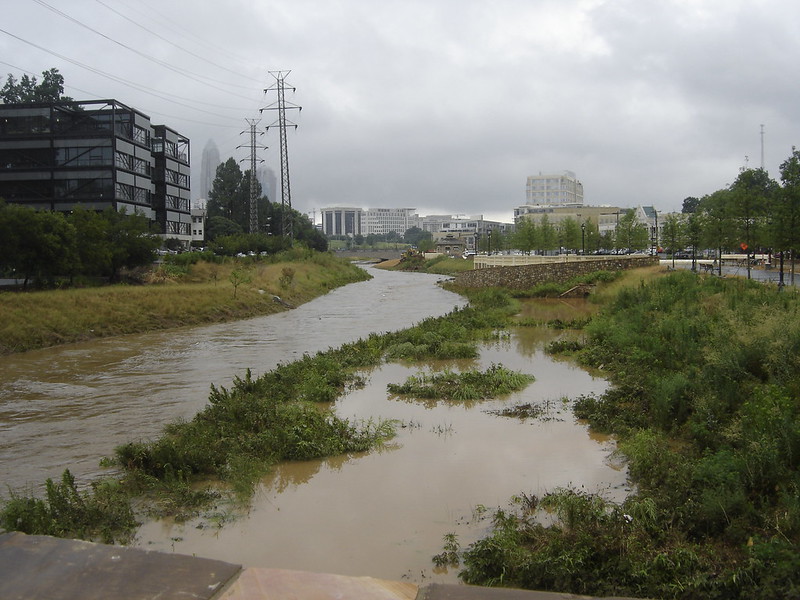 What is Stream Restoration?
Storm Water Services also conducts stream restoration projects. These help improve water quality and aquatic life and ensure these waterways can easily reach floodplains. The projects often coincide with greenway development. One example you are probably familiar with is the Little Sugar Creek Greenway and Stream Restoration Project near midtown. This section of the creek was once covered by parking lots and fast-food restaurants. It was uncapped and restored in the early 2000s. The greenway section opened in 2013. A more recent example is the Long Creek Greenway and Stream Restoration Project currently under construction. This project is a part of a partnership with Mecklenburg County Park and Recreation. It includes improvements to the stream and greenway development near Treyburn Drive.
So, the next time you notice flooding on the greenway, remember turn around, don't drown. Review these flood safety tips and know that's perfectly normal.
Tools and Resources About Flooding
Sign up for CharMeck Alerts to receive timely and accurate emergency information, including updates on flooding.
Get the latest rainfall and stream level data across the County through the Flood Information Notification System. This system includes:

Seventy-one rain gauges that collect rainfall data. Forty-six of these gauges alert fire, police, emergency management and MEDIC services when there is flooding or a threat of flooding.
More than 100 stream gauges that collect stream-level information; 14 gauges send warnings to emergency responders when issues arise.


Get flood insurance through the National Flood Insurance Program. Typical homeowner and renter insurance policies don't cover flooding, but the National Flood Insurance Program is available to all. Typically, there is a 30-day waiting period before flood insurance policies take effect, so don't wait until the last minute.