To be honest, the last time I remember riding a bike, I was in middle school. In my small town, rural neighborhood, I didn't wear a helmet (no shaming please) and I rode wherever I could get the smoothest ride and the most speed! That was ? years ago – and now, living in a more urban area, with two young children and an active lifestyle, I want them to come along with me as I ride and make sure they're safe.
Here's how to bike safely as your kiddos grow:
1. Biking While Pregnant
Let's start before that bundle of joy even gets here. Biking while pregnant can be a great way to curb nausea, improve energy levels and maintain an active lifestyle BUT remember, every pregnancy is different. You should always check with your doctor, consider your route and your comfort level and listen to your body when biking while pregnant.
2. Biking With Babies (0-3 years old)
Your baby shouldn't be carried in an upright bike seat until he can hold his head up on his own which usually doesn't occur until six months or later. Until then, try using a cargo box bike or trailer. Once your baby can sit up without falling, hold his head up on his own, and fit into a helmet (1 to 3 years old), he is most likely ready to ride in a front- or rear-mounted bike seat, cargo box bike or trailer. 
3. Biking With Toddlers (3-5 years old)
Once your babe gets a little older, you should consider moving to a rear-mounted seat. As they move past age 3, are able to stay awake for the whole ride and sit safely on a bike without restraints, there are other options to consider like tag-alongs, bike tow bars, follow-me tandems, regular tandems, and long tail bikes.
4. Building Biking Confidence
The time has come, they're big boys and girls and are ready for their very own bikes. Now, are you ready!?! Don't worry, I'm not either – they grow up too fast! But you can build that confidence in them (and in yourself) with these resources: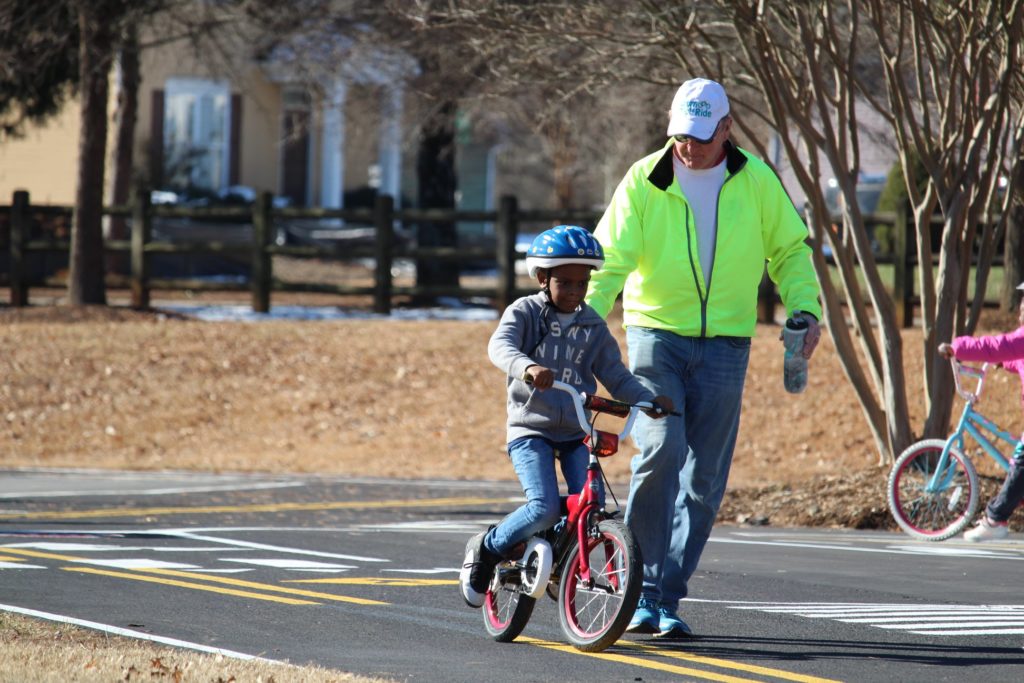 Visit the Bike Playground at Arbor Glen Recreation Center. A miniature city street built on two basketball courts, it has road signs, crosswalks, and everything you need to learn how to be safe when riding on the road.
Go to a Learn to Ride event. Kids of all ages and grown-ups, too, can learn to ride a bike using the tried-and-true "balance bike" method.
Get in LOTS of practice on the 52 miles of County greenway trails.
Help your kiddos become even more independent by biking to school with the Safe Routes to School program.