City or County? That's a question we get a lot when it comes to the services that we provide to our residents. We can't say we're surprised – considering that the City of Charlotte is a part of Mecklenburg County, it can be easy to get us mixed up. Throw six more towns into the equation and it can get even more confusing!
A good way to tell the difference is by knowing the types of services each agency provides. But, there are a few instances where it's going to seem like some of our services overlap. For example, all three of us (City, County, and the Towns) play a role in solid waste. However, even though we share a similar name, the functions of each solid waste department are very different.
Mecklenburg County Solid Waste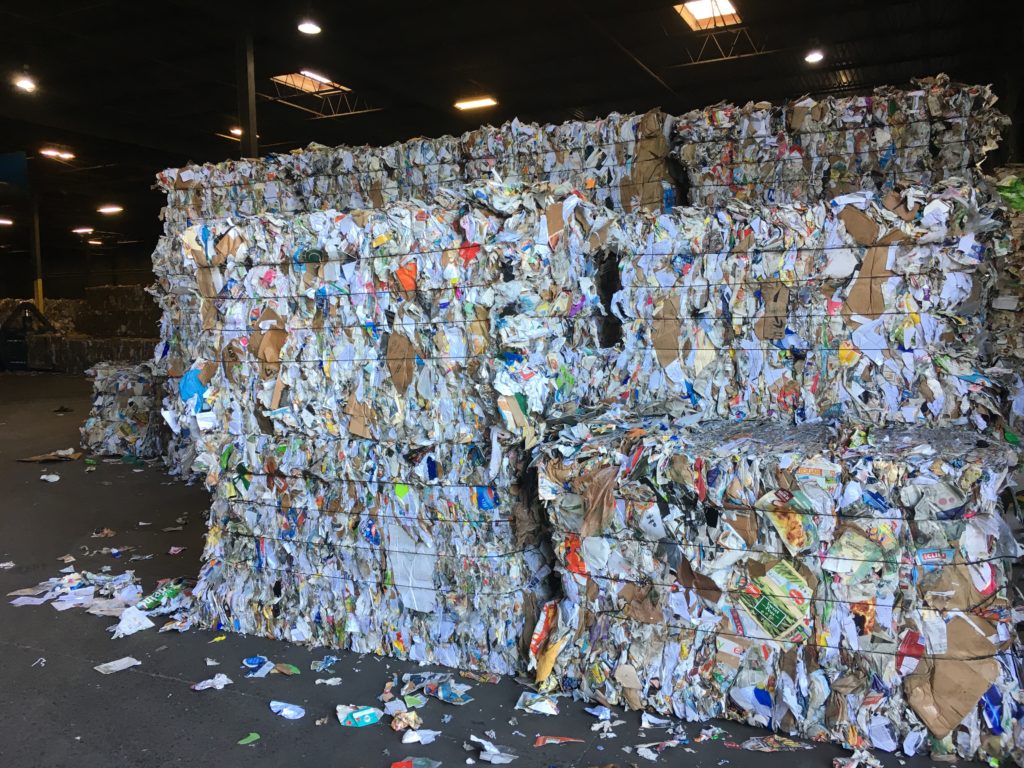 The County's Solid Waste Division falls under our Land Use and Environmental Services Agency (LUESA). Our main contribution here revolves around processing the solid waste and recycling from ALL of Mecklenburg County. We operate the facilities where materials go, including the Metrolina Recycling Center and all of the full-service and self-service recycling centers. We also operate the Foxhole Landfill, a Tire and Metal recovery facility, and we have the largest Yard Waste Composting Operation in North Carolina. The County also publishes a Wipe Out Waste Guide annually that answers almost any question that you might have regarding solid waste, trash, and recycling.
Metrolina Recycling Center
The Metrolina Recycling Center is owned by the County and processes all of the recyclable materials that are collected from your home and other drop-off programs. You can see the process your recycled items go through firsthand by scheduling a tour!
Full-Service and Self-Service Recycling Centers
For anyone who wishes to haul their own materials, we have several facilities you can bring them to. First, there are our four full-service drop-off centers. From appliances to yard waste, mattresses, paint, propane tanks (empty), and more, we accept almost everything that comes from your home here. There are some fees for certain items and a few rules, so be sure to check out our guidelines before heading over.
Second, there are our self-service recycling centers, which are unstaffed and meant to collect only certain items: paper, cardboard, aluminum cans/metal cans, milk and juice cartons, plastic jugs, and plastic and glass bottles.
Lastly, we can't forget to mention that part of what we do also helps businesses dispose of commercial solid waste. If you have recycling at a building or commercial business site, we also have commercial drop-off centers.
Although our recycling facilities make up a lot of what we do in County solid waste, we also sell mulch and compost, assist with licensing commercial hauling companies, lead community recycling programs, and provide ongoing education about what it means to "recycle right."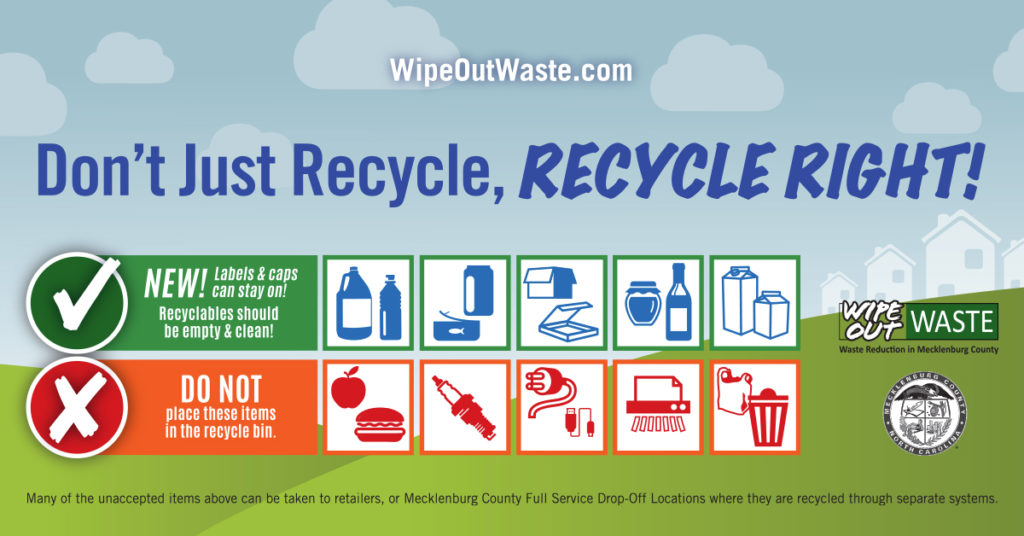 City of Charlotte Solid Waste
The City is responsible for curbside collection of garbage, recycling, yard waste and bulky waste only within the City – commercial entities included, but it depends on how much trash they generate. When it comes to bulky waste from your home, you can request a bulky item pickup easily online.
When you have questions about what is accepted curbside and how pickup works, the City's website is a great resource to turn to. There are some rules around how your items need to be prepared in order to be collected, so you'll want to familiarize yourself with them. For example – your garbage cart's handle should be facing your house and the lid should be facing the street.
A few other examples of when you might need the City's solid waste services include:
Moving to a new residence.
Requesting a second garbage or recycling cart.
Requesting repairs or replacement for your existing garbage or recycling bins.
Reporting deceased animals in a street, public right-of-way, or residence within the City.
Take a look at more information about how to reach the City's solid waste department.
Garbage and Recycling in Mecklenburg County Towns
Similar to the City of Charlotte, our Towns also provide collection services to residents. To find the specific rules and regulations around YOUR town's collection services, check out the following links:
NOTE: if you live in an unincorporated area of the County, you (or sometimes your HOA) are responsible for curbside collection.
So to recap, Mecklenburg County DOES NOT collect any residential trash or recycling, but we are the ones who are responsible for where it goes and how it gets processed. If your waste materials are not collected at the end of the day, the coordination of that will go to the City or Town who is responsible for it. And remember, our website can always assist you too.