I guess I should begin this blog post with a "true confession."
While I've never seen the movie "Confessions of a Shopaholic," I truly believe that I probably have a lot in common with the main character in the film. I love to shop. Shopping provides an instant boost of serotonin to my brain, taking me to a very euphoric place. It's my version of chocolate, minus the calories. Some would say I love it a little too much, with many family members and friends having vowed to never enter a mall with me again in this lifetime. I think that is a little dramatic on their part, but to each their own.
And while I am not sure if my passion for bargain hunting fits the clinical diagnosis of being a true "shopaholic," it is probably safe to say that I could find another way to spend my time and money.
So, the holiday season has truly become my favorite time of the year, but for totally selfish reasons. While I love the beautiful seasonal decor, festive parties, and a convivial atmosphere that only the holidays can bring; this is also the time of year when I can do what I love, for whom I love, under the disguise of giving. And with every purchase I bring home and with each package that awaits at my doorstep, another gift is checked off my holiday list – and a secret passion has been fulfilled.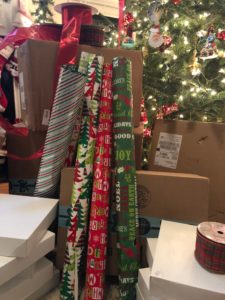 But December 26 and the days that follow often leaves behind a real challenge for many shoppers, not just for folks like me, who may have gone overboard – and gift recipients alike. What is the best way to dispose of the boxes, bubble wrap, Styrofoam, wrapping paper and other items that are left behind?
While tossing it all in the recycle bin may seem like the right way to get rid of the trash — not every item that appears recyclable CAN be recycled. Mecklenburg County Solid Waste officials say, "wishful recycling" (when people put items in the recycle bin that cannot be recycled) costs the County more than $1 million a year.
Just think of the time and resources it takes to sort through the items in curbside bins that do not belong there: Styrofoam, propane tanks, baby diapers, bubble wrap, clothing hangers, etc. None of those items are recyclable.
Incorrect/improper recycling harms all recycling by contaminating recycling loads resulting in rejected cargo.
Mecklenburg County's Solid Waste Department has a few reminders to help you help the planet by Recycling Right this holiday season. When discarding holiday trash, remember:
Do Recycle:
Plastic, glass bottles, aluminum cans, cardboard, boxboard and clean paper may go in your curbside recycling bin.
Live Christmas trees – All jurisdictions will collect live trees from the curbside for chipping.
Cardboard toy and gift boxes.
Don't Recycle:
Foil covered papers or envelopes – Remove the foil backing from the envelope and throw it in the trash. The plain paper envelope may go in the recycle bin.
Styrofoam – Be sure to separate the Styrofoam from the cardboard box that new toys are often packaged in. Toss the cardboard box in the recycle bin and throw the Styrofoam in the trash.
Batteries – Don't put batteries in a recycling cart. You need to take old batteries to one of the County's full-service recycling centers like Foxhole and Hickory Grove Recycling Center.
Artificial trees – Artificial trees should go in the trash, or consider selling or donating it. Surprisingly, County officials say at least 100 artificial trees are left curbside every year for chipping.
Recycling the right way is the ultimate gift you can give the environment this holiday season and it won't cost you a penny!
See below for a complete list of tips from Mecklenburg County's Solid Waste Department to help you recycle right, or visit WipeoutWaste.com.
DO NOT PLACE THESE ITEMS IN CURBSIDE AND COUNTY-OWNED RECYCLE BINS:
No plastic bags, no plastic wrap, or plastic film. These items can't be recycled by our processing facility. Please take to stores such as Harris Teeter or Walmart.
Do not put your recycled items in a plastic bag. We cannot recycle the bagged items.
No ceramics or glassware such as Pyrex, flower vases, picture frames, etc. (If in good condition, donate. If broken, put it in the trash can.)
No pots or pans.
No glassware (same as ceramics).
No paper plates, diapers, cat litter, aluminum cooking pans, napkins (trash can).
Do not put batteries in a recycling cart (take to a full-service recycling center).
No light bulbs (fluorescents and CFL go to full-service recycling centers. All others go to trash can).
No wire or plastic hangers (back to the cleaners or donate to a recycling clothing store, such as Goodwill).
No food "clam shells" or Styrofoam products (trash can).
No plastic food trays or paper/Styrofoam/plastic cups (trash can).
No shredded paper (trash can). Shredded paper falls through the screening equipment and contaminates the glass we collect. Some stores may accept shredded paper.