With more than 5,000 employees, Mecklenburg County probably has a lot of jobs you've never heard of before. One of them might be Strategic Planning and Evaluation Analyst in the County Manager's Office. That's Karli Godfrey's job title. Basically, it means she helps departments plan and execute programs, projects and initiatives, then figure out whether those projects met their goals. When I asked her to explain her job to a five-year-old, Karli said, "I get to help people in charge make good decisions. I spend lots of time talking to people, and on the computer learning. Then I take all of the interesting things I find and get to tell other people through charts and pictures."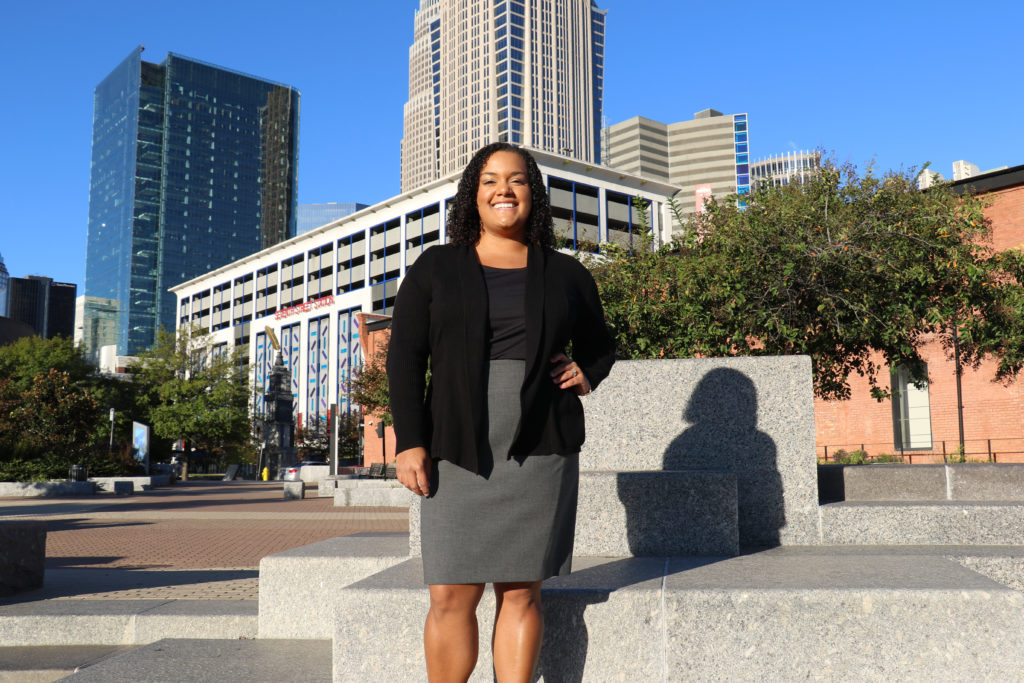 Meeting the Challenge
Of course, that looks a lot different in a pandemic. She's gotten to work on a variety of projects and research around COVID-19 and County responses to the pandemic. That's meant quickly adjusting to changes in national and state policies and our general knowledge about the pandemic. "While this often means tight timelines and quick turnaround, I appreciate the ability to help inform the County's response and policy setting during COVID-19," Karli said.
Each year, the County puts out an Annual Performance Report which looks at the work done to meet the Corporate Strategic Business Plan. Karli's been in charge of this project for the last few years and says she really enjoys the process of creating the report. "From working with departments to analyze data and understand what happened over the last year to creating presentations for the Board of County Commissioners and working with a designer to create a beautiful print product. I love data and connecting people with data, which means telling a story and understanding not just the numbers but the human experience associated with the numbers."
It's Not Just a Job…
It's a journey. Karli says, "People often think of a job as a final destination or the "next step" to get to what they really want to do. In reality, we often don't know what the "next step" looks like, and life can take us by surprise. People can set out on a career path and end in an entirely different direction, which is the beauty of the journey."
Karli said the best part of her job is knowing that the work she does is used to help make decisions that can better the lives of others in our community. And she gets to learn about all of the work going on in different County departments. So while she doesn't provide direct services to residents, she gets to help evaluate programs and find innovative ways to better serve our residents. That includes projects like the first Community Resource Center or funding for a new affordable housing strategy.
The Stafford, Virginia native's move to Charlotte for this job came with an unexpected perk. Karli met her husband here!
We're Hiring
You can join the Mecklenburg County team, too! Check out County career opportunities. Then learn about some of the other fascinating people who work here.