Written with assistance from Ryan Johnson with Land Use and Environmental Services Agency (LUESA)
Football season is in full swing and that means so is tailgating season. Let's face it — what better way is there to spend the hours leading up to kickoff than by hanging out with friends while enjoying great food and drinks?
If we must say goodbye to summer by turning in our beach chairs and endless hours frolicking in the ocean, spending the weekends enjoying football and food sounds pretty great to us. But, there's also the stark reality that at the end of every great tailgate there is often trash and recyclable material left behind.
If only there was a way to help limit that… ?
Panthers Tailgate Recycling Program
You didn't think we'd leave you hanging, did you?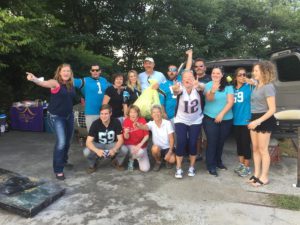 The Panthers Tailgate Recycling Program helps to make recycling easier at game-day celebrations. For the last nine seasons, volunteers have worked to provide tailgaters with recycling bags for their empty bottles and cans. The program operates through a partnership between Keep Mecklenburg Beautiful (a 501(c)(3) affiliate of Keep America Beautiful), the Carolina Panthers, Bojangles, Charlotte Center City Partners, Mecklenburg County Government and the City of Charlotte. In 2017, program volunteers collected and recycled over 30 tons of materials from tailgaters outside of Bank of America Stadium. Thirty tons! That's 60,000 pounds of recyclable material (about the same weight as 10 full-grown Asian elephants).
Volunteers have always walked around to distribute the bags, but that's about to change. You know those bikes you've been seeing around town? Well…
Lime to Aid with Recycling Efforts
Thanks to a new partnership with Lime, the nation's leading dockless bike share and smart mobility provider in the United States, volunteers will be able to put a new spin on their recycling efforts. Starting in September, some Panthers Tailgate Recycling Program volunteers will ride LimeBikes to distribute recycling bags to tailgaters on game-day!
The bikes will allow volunteers to distribute recycling bags to fans across uptown Charlotte quickly and efficiently, potentially increasing the number of recyclables collected. The partnership will also provide volunteers with a new option for commuting to tailgate locations while reducing emissions, traffic congestion and promoting a healthy lifestyle.
"Working together with local organizations to the benefit of the communities we serve has always been one of Lime's core missions," said CJ Shaw, North Carolina general manager for Lime. "We're thrilled to join the Panthers Tailgate Recycling Program to do our part in keeping the city of Charlotte clean and environmentally friendly."
"We are excited to partner with Lime for this pilot…they are a great fit for the Panthers Tailgate Recycling Program and we can't wait to get started," said Ryan Johnson, executive director of Keep Mecklenburg Beautiful.
To learn more about the Panthers Tailgating Recycling Program (maybe you even want to volunteer!), visit www.wipeoutwaste.com or call 980-314-3840.